Best Electric Skateboards
The best electric skateboards. As technology is becoming more and more advanced it's making our lives a lot easier. This is making a big impact on transportation making it high tech and eco-friendly and this is where electric skateboards come in. We've had skateboards for a long time but now we get to enjoy a newer version of the skateboard which is the electric skateboard.
Electric skateboards aren't just cool looking they're portable and very user-friendly. Electric skateboards are also safe for the environment as no gas is emitted from using them. The electric skateboard runs on a rechargeable battery and is fast and convenient when you want to travel long distances.
There are a bunch of electric skateboards available for purchase but for this article, we've picked the top ten best electric skateboards that you can buy right now.
The boosted 2nd gen electric skateboard has been one of the top electric skateboards out there. With a very attractive design and high quality parts, it's simply a must-have for those who enjoy riding in style. This electric skateboard now offers more power and range with smooth braking and powerful electric motors. The boosted 2nd gen electric skateboard is as portable as it gets, it's very lightweight and can be carried wherever you go. With a max speed of 22 mph and 2000 watts of power, it's enough to take you anywhere.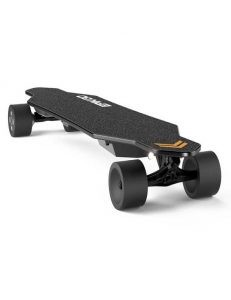 This electric skateboard comes with a really neat design and is built with good quality materials. The EPIKGO electric skateboard only weighs 16.5 lbs and is made with 7 layers of bamboo frame; this makes the electric skateboard lightweight and also durable at the same time.  The wheels on this electric skateboard are solid polyurethane tires, these tires have really good grip and will help you travel anywhere. The EPIKGO electric skateboard offers a 2100 watt dual motor, with this much power this electric skateboards max speed is up to 25 mph making this electric skateboard one of the fastest electric skateboards up to date. With a high power battery, this electric skateboard can go ten miles on a single charge. EPIKGO has also added intelligent internal sensors which prevent electrical shortages for maximum safety.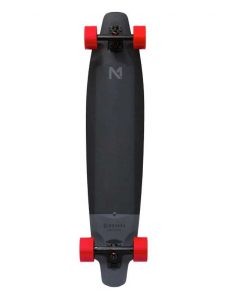 An elegantly designed electric skateboard the Inboard M1 electric skateboard is truly a piece of art. This electric skateboard comes with 1600 watt in-wheel dual motors giving this electric skateboard a max speed of 22 mph and a 7-mile range. One great feature is the swappable battery giving you more miles. The electric skateboard is fitted with electronic regenerative brakes giving you maximum safety and more control with LED lights for extra safety. The remote control has 4 riding modes making it easier for riders with no experience with electric skateboards. The deck is designed to be stiff this offers more stability when riding at high speeds.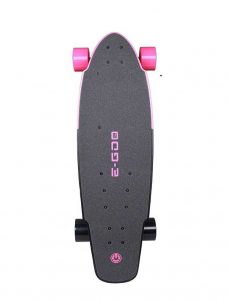 This electric skateboard has a rather simple design; the 12mm 8 layer wooden deck has been made into a kicktail shape which offers the rider more control and better steering. The Yuneec E-GO2 Electric Skateboard is fitted with a 400-watt motor and can reach up to 12.5 mph. The Yuneecs patented battery can give you up to 18 miles on a full charge and also good brakes for more safety.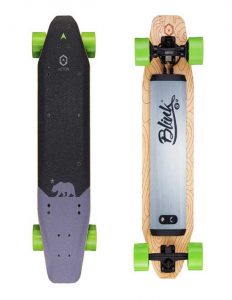 Action Blink s2 offers a sturdy strong and fast electric skateboard built to last. The electric skateboard is fitted with a top of the line lithium-ion battery that fully charges in just 1.5 hours and can go up to 14 miles on a single charge. The skateboard has built-in LED lights making riders more visible on the road and giving the rider maximum safety. Comes with a Bluetooth remote control to turn the electric skateboard on and off at the flick of a switch. ACTION offers a 6-month warranty too.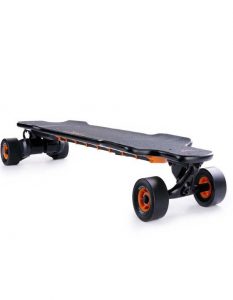 A really innovative skateboard with a single-dual motor. This electric skateboard can reach speeds up to 25 km on a full charge depending on which mode you ride on as there are three riding modes. The deck is made of 4 layers of bamboo material and another 4 layers of fiberglass making this electric skateboard durable and safe. The tires are pure DU durable waterproof wheels that are can absorb shock and give a smooth riding experience. A 1200 watt motor added for a fast riding experience, this electric skateboard has the world's only single-dual drive system that lets you accelerate and come to a complete stop in the blink of an eye.
BLITZART Huracane
38″ Electric Longboard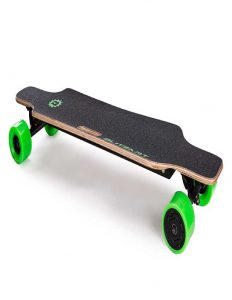 This electric skateboard offers a max speed of 17 mph and a range of up to 10 miles on a single charge. Fitted with a 36V lithium-ion battery that can fully charge in 2.5 hours. Comes with an easy to hold wireless remote that has two riding more for beginners and advanced riders. The deck is made of 6 layers of maple wood and bamboo, this combination gives the board flexibility and makes it sturdy for the rider. A 350 watt hub motor added for, hub motors are quite and give a pleasing appearance to the electric skateboard. This electric skateboard comes fully assembled so you won't have to reassemble anything.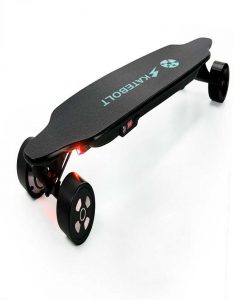 A superfast skateboard from skatebolt. This electric skateboard can reach speeds of up to 25 mph with two speed modes for low speeds and high speeds. This electric skateboard also comes with a 6600 mAh battery allowing riders to ride for long distances, 15.5 miles to be exact. ABS brakes added for safety and LED lights built in the board so travelling at night won't be an issue.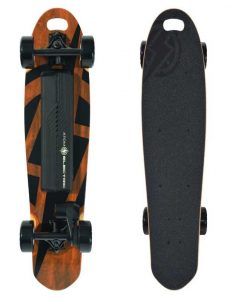 This electric skateboard has a powerful 1000 watt motor. Offers riders smooth acceleration and braking with the help of the wireless controller. Comes with a lithium-ion battery that can be fully charged and used at its peak. Regenerative brakes added that recharge your battery while on the go giving you an extra mile.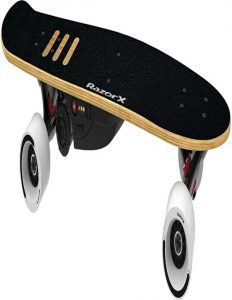 This little cruiser electric skateboard is for those who just want to have a little fun and can also be used to help beginners who don't have any experience on an electric skateboard and want to try out a cheap one before buying a better one. This electric skateboard is powered by a 125 watt motor with a lithium-ion battery. It can reach speeds of up to 10 mph for up to 40 minutes. The 25.7 inch deck is a 5 layer made of maple for a lightweight feel. Also features high grip urethane wheels and custom kingpin trucks for better control and stability. A great choice for beginners with no experience on an electric skateboard.
There you have it, we've listed the top ten electric skateboards that we think are best for you. Before buying an electric skateboard makes sure you know how to ride it properly and make sure you know how it works. Always make sure you wear your safety gear as accidents can happen anytime. Make sure you buy an electric skateboard that suits you best.