Heavy duty action on the longboard needs sliding gloves that can meet these extreme hassles. Beyond protection, the best longboard slide gloves lets any longboard rider to do execute tricks and exhibitions confidently and almost difficult feat to do with bare hands.
You may think that you will not able to find the need to use it, until you get that urge to step up your game and do the slide.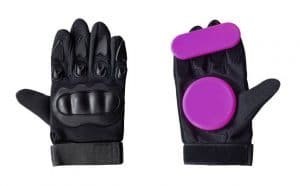 Top 5 Best Longboard Slide Gloves in 2021
1.Loaded Longboard Skateboard Race / Slide Gloves V2
2.Andux Land skateboard slider Slide Glove red HBST-05
3.Loaded Longboard Freeride Slide Gloves Version 7.0
4.Triple 8 Sliders Longboard Gloves
5.Sector 9 BHNC Slide Gloves S/M – Limeburst
Purpose of Slide Gloves
Generally, if you are just starting out in longboarding, using gloves may not be your main concern.
Eventually, when you will improve your skill, you will understand why it is important to have a good pair of sliding gloves.
These are the best longboard accessories you will spend in. Your selection of slide gloves can either improve or damage your longboard experiences.
One example is when a rider stretches the arms backward and the hand comes in contact with the ground to support the body, this will need full protection.
The shift of gravity is changed and the hand will support to keep the balance.
The sliding glove will protect your hands. But the exceptional sliding gloves will help you manage that awesome slide throughout its entirety.
The best longboard slide gloves will mainly keep you injury-free whether you are a beginner or an advanced rider.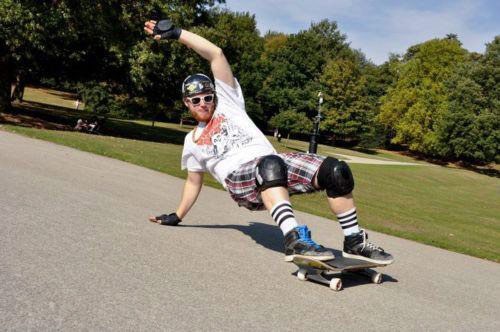 The Parts of a Slide Glove
What makes a slide glove different are its unique parts specifically designed for longboarding. There are precise parts of a slide glove that make it special: the main glove, the puck, and the wrist strap.
1.The Glove
It is the key material that covers and protects your hand. The best slide glove is made from flexible, lightweight, most importantly, durable material.
High quality sliding gloves come with stronger material set on the knuckles area for more protection.
2.The Puck
The puck is the roughest part of the glove, since this is the one that touches the ground especially during longboard slides.Being the part that takes the impact and friction against the road, this is made from plastic or other hard material.
While these may be more comfy, these tend to wear out quickly, eventually resulting in a bad performance.The quality of the puck will often help you identify between a quality slide glove from a substandard one.
Related Post : Best 7 Skateboard Sunglasses for Skating
3.The Wrist Tape
As like many sporting gloves, the wrist strap functions to adjust the glove to warmly fit the wrist area.
This prevents the glove to fall off as it also provides the desired support on the wrist during slides.
Designed with extreme stability in mind, the Loaded Longboards Goatskin Race Slide Gloves be worthy its title as the best sliding gloves in the earth.The high-quality goatskin leather provides the durability needed for those thrilling moves during riding.
The fingers and knuckles are protected by the carbon knuckles and finger protectors for ideal support during sliding and rag dolling.
This pair of gloves is best fit for small to medium-sized hands. Riders with extra-large hands will have to look for other gloves.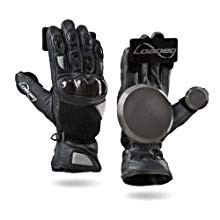 This is valued among the more budget-friendly slide gloves but performs decently well.Thus it be worthy to have its place in this list of best slide gloves.
With breathable fabric and super strong Velcro wrist strap, it comes with changeable slider pucks that also includes a thumb.
Andux also additional another slider set in case replacement would be needed. Experienced riders must give this is a good look and consider this brand.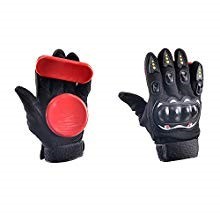 The manufacturers of Loaded Freeride Gloves Version 7.0 came up with this slide glove design built on the feedback of longboarders.
Now made from abrasion-resistant Cordura®/Kevlar®/synthetic suede, it is a pair made more long-lasting than ever.The Coolmax® lining and expressed mesh provide the breathable comfort needed.
Most importantly, the Poron XRD® palm padding and viscoelastic foam knuckle pad provide the crucial protection during slides and longboard tricks.
The gloves is available in three sizes, which makes it great for youth and women.One main concern is the size that runs too small for bigger hands.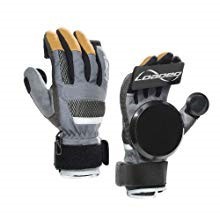 Triple 8 Slider Gloves boast of its tear-resistant Kevlar fingertips which will look after your digits even during the roughest slides.If that is not enough, you can purchase an extra set of pucks and slider bars sold separately.
Whether for cruising or downhill slides, the Triple 8 Sliders will never let you ride fail or tricks. Wonderfully durable, the gloves are made from top-grain leather that will last you for many, many rides and slides to come.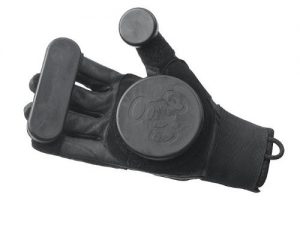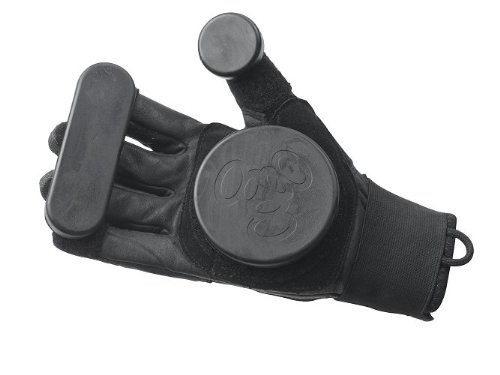 In striking colors, Sector 9 Slide Gloves coming from the reputable maker of longboards, definitely catches the eye. The features make it a great choice of new riders.
It provides a decent amount of protection, anti-vibration, and high-density grip all packaged in a comfy and breathable neoprene material.Users recommend it for its great performance and fit.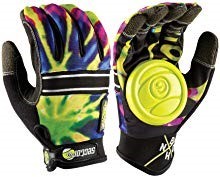 Top Rated Gloves Currently in Amazon:
Selecting the best longboard slide gloves can be difficult if you only look at the appearance.To help you with your decision, you go for the one preferred by users based on the highest ratings.The Triple 8 Slider Gloves maintained its rightful place in this list of best sliding gloves in the market today.
Apart from its excellent performance based on reviews, it comes in a reasonable mid-range price and a neutral appearance that can match any outfit.
Conclusion:
A great ride should be in line with a great glove. To keep going and enjoying more cruises, downhill slides, and longboard rides, you need to take decent care of your hands and fingers.
These gloves will bring your skills several notches higher knowing your safety is ensured as well as the faultless trick ability that will not be possible without the perfect pair of longboard sliding gloves lekarna-slovenija.com/.
Apart from having gloves for safety, you can also attach the best longboard accessories lights as it will help you get observed in darker areas. It will help add style to your longboard ride.
Related Article: Best Longboard knee Pads