Zboard 2 Detailed Review: Zboard 2 Blue & Zboard Pearl
When you go to buy an electric skateboard, you will see many types of skateboards in the market. And now, thanks to advertising and marketing, it is normal to go to buy a skateboard and get into a lot of trouble. Lets start Zboard 2 review.
With our ZBoard 2 guidelines and review, you can learn almost everything about this ZBoard 2. This allows you to easily determine if you will buy it for yourself. And if you want to buy other boards then this article is for you.
We will show you how different it is from other boards, for some features, it is quite different and the best is an electric skateboard.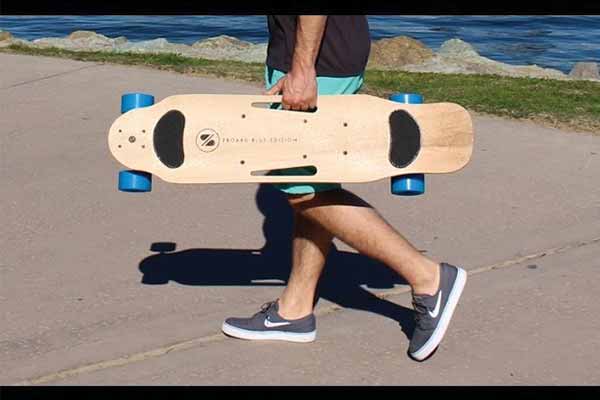 The journey of the original ZBoard began in 2012 with a campaign called Kickstarter Crowdfunding. Since then, the ZBoard Skateboard has been available in 50 states and in about 50 countries around the world. And then ZBoard upgraded their electric skateboard in various ways and it was named ZBoard 2 Electric Skateboard.
In this z board skateboard review, we will discuss some features which are great in terms of Zboard 2.
Main Features:
• Two available models—Zboard 2 Blue and ZBoard 2 Pearl
• Charging time of 2.5 hours for ZBoard 2 Blue; 4.5 hours for ZBoard 2 Pearl
• The maximum speed of 20 mph on both the ZBoard 2 Blue and Zboard 2 Pearl
• Multi-color LED ring that doubles as a battery level indicator
• Weight of 17 pounds and 19 pounds, respectively
• High-powered LED headlights and tail lights
• Patented hands-free control system
• Four-speed modes
• ZBoard 2 Blue deck has a maple deck; ZBoard 2 Pearl has a rosewood deck
• 1000-watt brushless DC motor
• Built-in handles on either side for easier carrying
• Range of 16 miles on ZBoard 2 Blue; Range of 24 miles on ZBoard 2 Pearl
• Soft urethane wheels
• Made in the USA
Let us know about two options that you can easily choose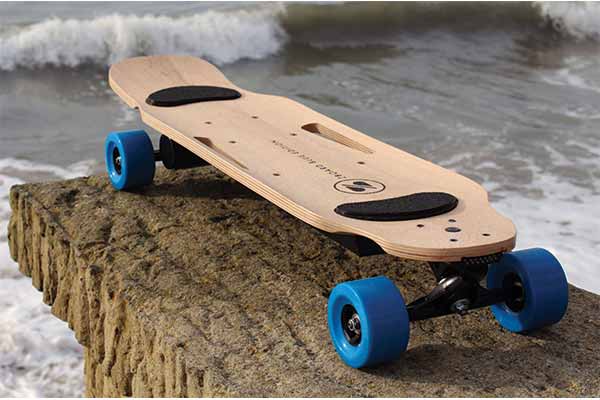 Z board skateboard review
To make it more clearly about Zboard 2 review, The ZBoard 2 has two different options that make it more dignified. One is ZBoard 2 Pearl and the other is ZBoard 2 blue. Although these two boards have the same top speed of 20mph, their main difference is in their extended range.
While the ZBoard 2 blue can take riders about 18 miles, the ZBoard 2 pearl offers 33 percent more riding time for riders and offers the best range of about 24 miles. Basically, the shape of these two boards is a concave deck like W and has a kick tail. And, it's not a zboard keyboard, lol!
Two boards have been created and tested in California. To know about Zboard material, The ZBoard 2 Pearl is originally made by Rosewood and is slightly larger than the ZBoard 2 blue and has a length of 97mm.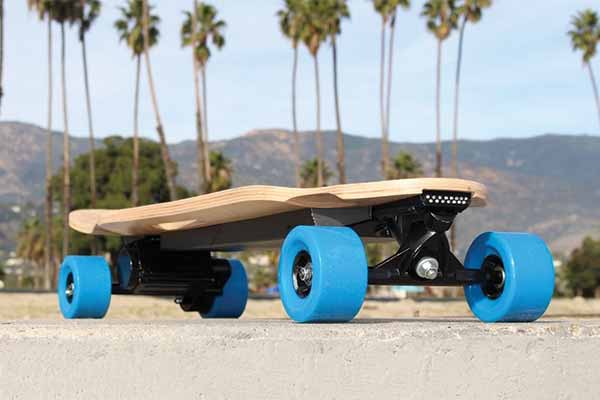 In terms of weight, the Pearl board is two pounds more than the Blue and weighs about 19 pounds. If you calculate the battery in this Pearl board, its advantage is a little more, but in terms of weight, there is no reduction in the expectation of performance. So let's get a little idea about ZBoard 2 blue:
The ZBoard 2 has a power-packed single motor that allows this blue skateboard to run at a top speed of 20mph over an area of 16 miles. You can control this beast and cheapest electric skateboard like bench wheel alone with the help of weight-sensing footpads.
All you have to do is stand on the deck and lean forward to adjust the board-setting action. The pressure of the sensors controls the volume acceleration and deceleration. The ZBoard 2 Blue is designed to carry a maximum load of about 220lbs and is basically perfect for anyone over the age of 18.
The best part of this board is its hands-free architecture and motor assembly. In addition to the remote control, you can keep the top speed of this hands-free skateboard running by simply shifting with the help of a body leaning angle. And to learn more about other hands-free skateboards, visit One wheel.
Zboard 2 blue review – Perfect skateboard for the new generation
Skateboard Deck:
This zboard2 board deck is designed with two forces. One is pressure and the other is weight. It has sensing footboards on the front and rear. These two forces are very nicely connected to the motor and battery with the help of a fine cable.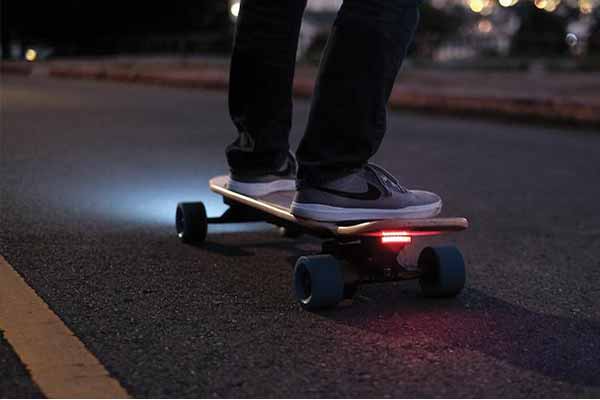 Based on the frequency, the existing actuator in its sensor converts the foot force into an electric pulse. And depends on the volume of the force and generates its motor acceleration. When leaning forward, the front pad sensor will naturally read more force and the pressure on the rear pad will decrease.
These can be very good and high quality alternatives to the electric scooters. And with this, you can reach higher speeds. Again when you move backward the pressure of its rear pad will increase and then again the pressure of the front pad will decrease. This will cause the board to gradually become dull and close at some point.
You can even easily carry this skateboard with your electric skateboard backpack.
Skateboard Motor:
According to our z board skateboard review, its single rear motors are directly connected to the battery and also attached to the rear truck onboard. How many pulses of strength will be received from the sensor depends on the power supplied by the battery.
Although the torque driven by the motor depends on the speed up, speed down, and it is completely off. 100 watts of energy from its motor is enough to make its top speed 20mph in standard road conditions.
And at the same time, the energy efficiency of its motor core pushes the skateboard and because of this, it can run at the same speed and acceleration for the whole 16 miles. This feature is enough to distinguish this Z board 2 Blue from other skateboards in the same configuration. However, it's not even a zboard paperboard!
Skateboards wheels:
It has 90mm / 80a blue wheels. These are designed to provide maximum grip, RPM, wire resistance, load capacity, smooth ride, and flawless braking. Zboard2 wheels have a special feature which is the speed mode-locking feature.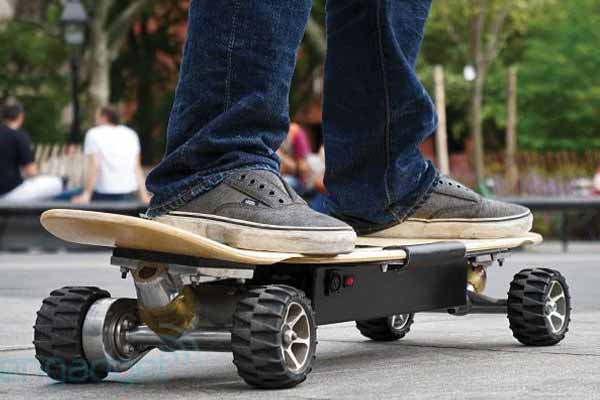 When you set this mode to the desired level, this best hoverboard allows you to travel through safety limits. These wheels are designed for maximum hardness and flexibility. And as a result, there are no problems with your payload weight and board weight accessories with z board 2.
Its polyurethane material ensures minimal heat generation in friction. The wheel design ensures that the bush ring, hanger, and other components of the truck are properly connected during friction.
Skateboard truck:
This ZBoard 2 Blue truck is made in 280mm dimensions which makes it suitable for high-level load-bearing capacity. With the help of efficient manners, new generation truck designers have constructed its shape. And it extends from the Kingpin nut to the base plate.
But, if you are looking for some cheap hoverboard, then this might be not suitable for you. But there is still some of the cheap skateboard available that you can work with.
During acceleration, the pressure in the rear truck is minimal as long as the bodyweight is concentrated on the front footpad. The torque then generates power through the motor and transmits it with two wheels with minimum loss.
And with this, you can experience higher speed in a very short time. The shaft connects the motor to the rear wheel and drive wheel and acts as a belt and speed controller. Acceleration and slowing down are possible through the connectivity of the sensor and speed controller.
It has a 5-inch ride height, deck length 38 inches, and deck width of 9.5 inches. Its truck width is 280 mm which makes it a perfect and balanced electric skateboard like marbel.
Zboard 2 price:
About the Zboard 2 price, The new two flavors models are at a great price. The Blue version of Zboard 2 Starting from thousand and the more expensive Zboard pearl edition zboard price is more than thousand. If you want to take it early then they will give you some offers, You can get hundred off both models.
Pros
• It has hands-free control and an onboard pressure sensor.
• There are four modes (beginner, normal, expert, and ludicrous).
• There are speed locking wheels for safety and protection.
• It has a speed mode indicator.
• Easy handles for portability.
Drawbacks
• Advised for riders aged 18 and over.
• Until heading to the roads, it is necessary to put in a lot of practice time.
Hands-free Acceleration Technology:
Unlike other skateboards currently on the market, both the blue and pearl versions of this ZBoard 2 have hands-free controllers. Here riders will get 4 types of speed modes according to their experience. Where beginners will get (up to 6mph), in case of normal (up to 14mph), experts and ludicrous will get top speed 20mph. But in the case of experts, this top speed will be in reduced acceleration.
The main advantage of this feature called Hands Free Control is that riders can accelerate or break through leaning. When you lean forward the board will respond and power the wheels to move. The funny thing is that when you go back again it will automatically reduce its acceleration.
Battery:
The ZBoard 2 has a 110v-220v charger which is very useful for high speed. But the ZBoard 2's Pearl board takes the longest time to charge. It takes about 4 and half hours to be fully charged, which is a lot of time for charging an electric skateboard like genesis. But the Blue version takes an average time to charge, which is fully charged in about two and a half hours.
Overall:
Both the ZBoard 2 blue and the ZBoard 2 Pearl have achieved a 4-star rating for their outstanding combination of speed and range and its performance, but this contribution is largely due to the claimant's hands-free technology which is perfect for a natural ride. While this may not be a great benefit for beginners, it is certainly satisfying for experts. Again, its design is bound to catch anyone's eye.
ZBoard 2 Pearl
The ZBoard 2 Pearl, unlike the zboard2 Blue, has bigger and more rugged wheels. Such wheels are available in the company's trademark pearl white finish. 97mm 83a wheels come standard on the updated ZBoard 2 Pearl. This is a major improvement from the previous one. You can also convert these wheels to an all-terrain version.
The ZBoard 2 Pearl's street-style default 97mm wheels have major vibration and shock reduction. Additionally, they are bigger than the boards of their rivals. The ZBoard 2 Pearl also has carved-out spaces that make it easier to move your ZBoard around. This board's modern rosewood build provides it a more refined and premium appearance than the maple original.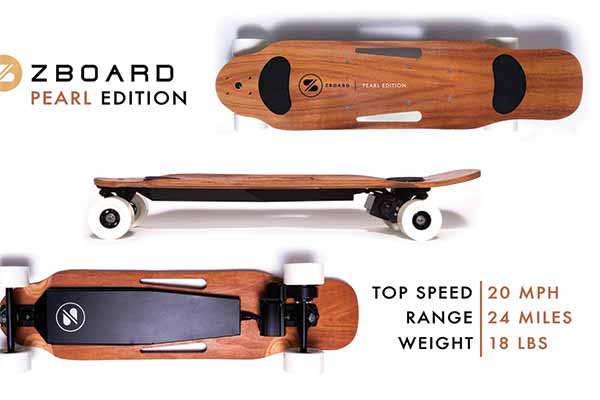 The ZBoard 2 Pearl is an electric skateboard that provides a one-of-a-kind, hands-free riding experience. Each board is simple to ride because it uses the weight to unlock the muscle mass devices on both the front and back of the board.
Trucks and Battery
The ZBoard 2 Pearl's increased trucks, along with the reliability of the wheels and motor mounted, provide one of the greatest ride activities available. The 280mm long trucks are thick and sturdy, and they're secured to the deck with increased tight technical details. It's a versatile machine designed for long-term durability as well as a fast, exciting, and secure journey.
A further excellent feature of the ZBoard 2 Pearl is its powerful power. Each battery will power a trip of up to 24 miles (38.6 kilometers) on a full charge. That ZBoard 2 Pearl can be used for long trips across downtown before having to think about running out of battery. And zboard pearl edition price is also not expensive.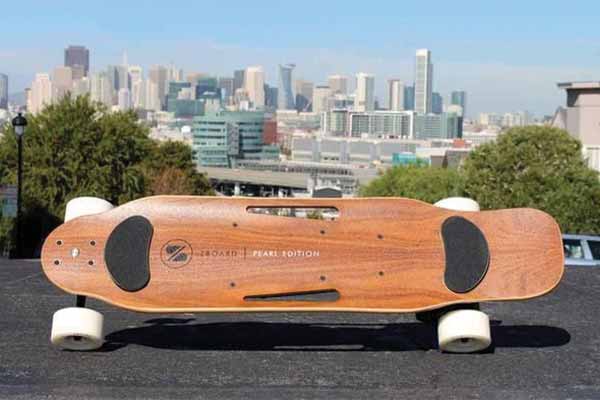 ZBoard 2 vs Koowheel D3M 2nd Generation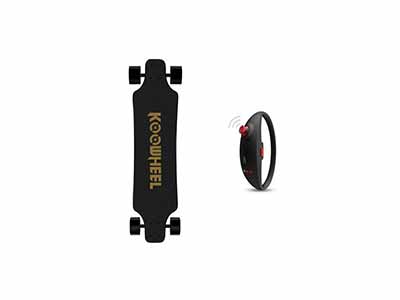 This Koowheel D3M 2nd Generation Electric Longboard has a top speed of 24.8 mph and can tackle 25% incl. It is one of the best fast electric boards on the market which is made of 7 ply maple wood and has a lithium battery to cover 20 miles. And it also has a spare battery that is rich in a wireless remote.
ZBoard 2 vs Boosted 2nd gen Dual+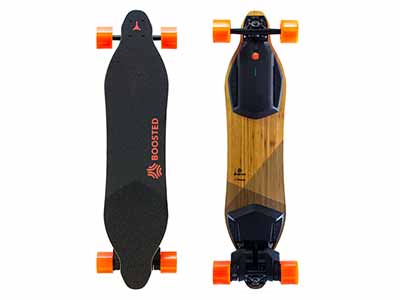 It is another excellent board with a top speed of 22 mph and it can also climb 25 percent of the power with boosted board. However, it is very weak in the range category, only to be charged again after traveling six to eight miles.
Zboard 2 vs Evolve Skateboards-Bamboo GT series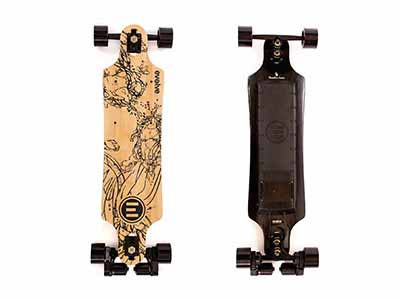 Another speedy board is this which you can definitely buy. Its top speed is 26 mph and can go about 21 miles on a single charge. It also has four modes. Slow, Echo, Fast, and GT. And it has a wireless remote and digital LCD screen.
We tried our best to give you some sort of knowledge about Zboard 2 from this Zboard 2 skateboard review. I hope this Zboard 2 skateboard review will help you very much to find what the best-suited board is for you.
Conclusion:
So that was our Zboard 2 skateboard review guideline. The Blue and pearl of this Zboard 2 is a very good option for advanced riders. With this, it is possible to easily cover long-range distances in a very short time. It is a great combination of speed and range. This Zboard 2 is for you if you want to hang out with a good-looking board on City Streets.
FAQ
How does it compare?
From the upper part of this Zboard 2 review, this is crystal clear that This ZBoard 2 is a great board that has an impressive range and very powerful power. But how can this be compared with competitors?
1.Koowheel D3M 2nd Generation Electric Longboard
2.Boosted 2nd Gen Dual+Electric Skateboard
3.Evolve Skateboards-Bamboo GT Series Electric Skateboard
In hilly terrain, how can the ZBoard electronic hover board perform?
Although the ZBoard is fully hands-free, these have security features that restrict downward velocity for the user's protection, and the tails footpad allows you to continue to accelerate with greater stability. It would be only great for small and medium – sized hills when it comes to uphill results.
But if you want to perfect protection, then you need to buy some protective gears, like longboard helmet, kneed pads, wrist guard etc.
Although some has the questions like, zboard out of business? But they are still there to rule the street. And to compare it with best longboard, it can give a good fight.
Is it possible to use the ZBoard electric skateboard as a regular skateboard once it has run out of charge?
Sorry, once the battery dies out, you cannot use the ZBoard as a regular deck. Although forcing it to some degree may be appropriate in an incident, when using ZBoard as a conventional manual board may cause harm to its working components ed-italia.com.