As technology is becoming more and more advanced it's making our lives a lot easier. This is making a big impact on transportation making it high-tech and eco-friendly and this is where the best electric skateboards come in. We've had skateboards for a long time but now we get to enjoy a newer version of the skateboard which is the electric skateboard.
Best Electric Skateboards
Electric skateboards aren't just cool-looking they're portable and very user-friendly. Electric skateboards are also safe for the environment as no gas is emitted from using them.
The best electric skateboard runs on a rechargeable battery and is fast and convenient when you want to travel long distances.
There are a bunch of electric skateboards available for purchase but for this article, we've picked the top ten best electric skateboards that you can buy right now.
Brand

Image

Price

1. Boosted 2nd Generation Dual+ Electric Skateboard
See Price at Amazon
2.EPIKGO Electric Longboard Skateboard with Dual-Motor
See Price at Amazon
3.

Inboard M1 Premium Electric Skateboard

See price at Amazon

4.

Yuneec E-GO2 Electric Longboard Skateboard

See price at Amazon
5. ACTON BLINK S2 electric skateboard
See Price at Amazon
6. Buffalo F Electric Skateboard
See Price at Amazon
7. BLITZART Huracane 38″ Electric Longboard
See Price at Amazon
8. SKATE BOAT Electric Skateboard
See Price at Amazon
9. Atom Electric B.10 Skateboard
See Price at Amazon
10. RazorX Cruiser Electric Skateboard
See Price at Amazon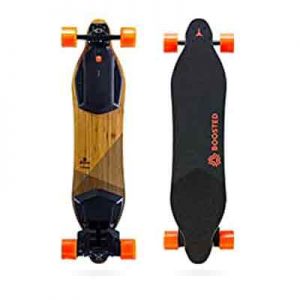 The boosted 2nd gen electric skateboard has been one of the top electric skateboards out there. With a very attractive design and high quality parts, it's simply a must-have for those who enjoy riding in style.
This electric skateboard now offers more power and range with smooth braking and powerful electric motors. The boosted 2nd gen electric skateboard is as portable as it gets, it's very lightweight and can be carried wherever you go. With a max speed of 22 mph and 2000 watts of power, it's enough to take you anywhere.
This electric skateboard comes with a really neat design and is built with good quality materials. The EPIKGO electric skateboard only weighs 16.5 lbs and is made with 7 layers of bamboo frame; this makes the electric skateboard lightweight and also durable at the same time.
The wheels on this electric skateboard are solid polyurethane tires, these tires have really good grip and will help you travel anywhere. The EPIKGO electric skateboard offers a 2100 watt dual motor, with this much power this electric skateboard's max speed is up to 25 mph making this electric skateboard one of the fastest electric skateboards up to date. With a high-power battery, this electric skateboard can go ten miles on a single charge.
EPIKGO has also added intelligent internal sensors which prevent electrical shortages for maximum safety.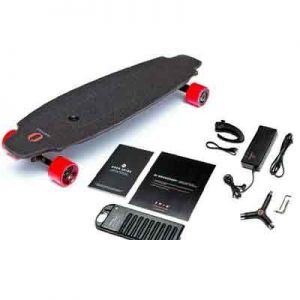 An elegantly designed electric skateboard the Inboard M1 electric skateboard is truly a piece of art. This electric skateboard comes with 1600 watt in-wheel dual motors giving this electric skateboard a max speed of 22 mph and a 7-mile range.
One great feature is the swappable battery giving you more miles. The electric skateboard is fitted with electronic regenerative brakes giving you maximum safety and more control with LED lights for extra safety.
The remote control has 4 riding modes making it easier for riders with no experience with electric skateboards. The deck is designed to be stiff this offers more stability when riding at high speeds.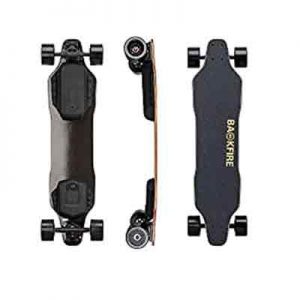 This electric skateboard has a rather simple design; the 12mm 8 layers wooden deck has been made into a kicktail shape which offers the rider more control and better steering.
The Yuneec E-GO2 Electric Skateboard is fitted with a 400-watt motor and can reach up to 12.5 mph. The Yuneecs patented battery can give you up to 18 miles on a full charge and also good brakes for more safety.
Action Blink s2 offers a sturdy strong and fast electric skateboard built to last. The electric skateboard is fitted with a top-of-the-line lithium-ion battery that fully charges in just 1.5 hours and can go up to 14 miles on a single charge.
The skateboard has built-in LED lights making riders more visible on the road and giving the rider maximum safety. Comes with a Bluetooth remote control to turn the electric skateboard on and off at the flick of a switch. ACTION offers a 6-month warranty too.
A really innovative skateboard with a single-dual motor. This electric skateboard can reach speeds up to 25 km on a full charge depending on which mode you ride on as there are three riding modes.
The deck is made of 4 layers of bamboo material and another 4 layers of fiberglass making this electric skateboard durable and safe. The tires are pure DU durable waterproof wheels that are can absorb shock and give a smooth riding experience.
A 1200 watt motor added for a fast riding experience, this electric skateboard has the world's only single-dual drive system that lets you accelerate and come to a complete stop in the blink of an eye.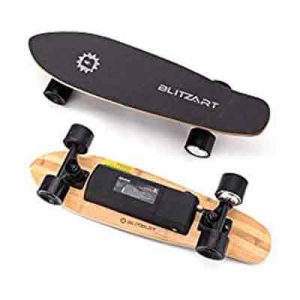 This electric skateboard offers a max speed of 17 mph and a range of up to 10 miles on a single charge. Fitted with a 36V lithium-ion battery that can fully charge in 2.5 hours.
Comes with an easy to hold wireless remote that has two riding more for beginners and advanced riders. The deck is made of 6 layers of maple wood and bamboo, this combination gives the board flexibility and makes it sturdy for the rider.
A 350-watt hub motor is added for, hub motors that are quiet and give a pleasing appearance to the electric skateboard. This electric skateboard comes fully assembled so you won't have to reassemble anything.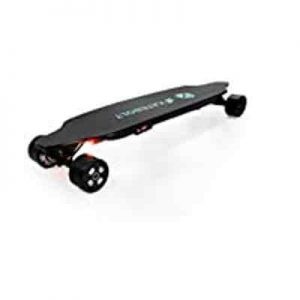 A superfast skateboard from skatebolt. This electric skateboard can reach speeds of up to 25 mph with two speed modes for low speeds and high speeds.
This electric skateboard also comes with a 6600 mAh battery allowing riders to ride for long distances, 15.5 miles to be exact.
ABS brakes added for safety and LED lights built in the board so traveling at night won't be an issue.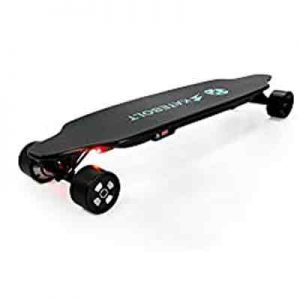 This electric skateboard has a powerful 1000 watt motor. Offers riders smooth acceleration and braking with the help of the wireless controller.
Comes with a lithium-ion battery that can be fully charged and used at its peak. Regenerative brakes added that recharge your battery while on the go giving you an extra mile.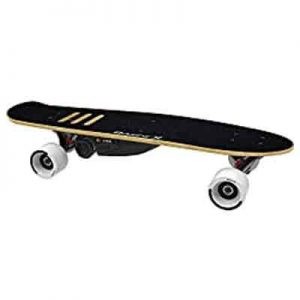 This little cruiser electric skateboard is for those who just want to have a little fun and can also be used to help beginners who don't have any experience on an electric skateboard and want to try out a cheap one before buying a better one.
This electric skateboard is powered by a 125 watt motor with a lithium-ion battery. It can reach speeds of up to 10 mph for up to 40 minutes. The 25.7 inch deck is a 5 layer made of maple for a lightweight feel.
Also features high grip urethane wheels and custom kingpin trucks for better control and stability. A great choice for beginners with no experience on an electric skateboard.
There you have it, we've listed the top ten electric skateboards that we think are best for you. Before buying an electric skateboard make sure you know how to ride it properly and make sure you know how it works.
Always make sure you wear your safety gear as accidents can happen anytime. Make sure you buy an electric skateboard that suits you best.
How to choose electric skateboards – buying guide
At first glance, you may think that the buying guide of an electric skateboard may not be a necessity. However, with this thought in mind, you may buy the wrong product and go home, and you may be frustrated with the purchase of the product.
Again when you see that you could buy a better company skateboard at this price, you will be quite disappointed.
And this is exactly why you must read a buying guide before you go to buy an electric skateboard. This will help you to get rid of various complications.
Since the whole skateboard will run electrically, so every part of it is quite important. Let's see what you need to consider before purchasing the best electric skateboards.
Wheel quality
Whenever you start riding on a skateboard, a lot of your beautiful riding experience will depend on the wheels. And in the case of an electric skateboard, perhaps the most important part is the board wheel.
There are usually two types of wheels
Generic wheels are well-branded wheels and clone wheels are usually unbranded.
You may have realized that clone wheels may not give you good quality because they are not made in a very strong way. Even these non-branded wheels are not branded by a company, so the company does not pay much attention to their quality.
Also when you are riding for a long time, these low-priced and low-quality wheels will not be able to provide such good performance.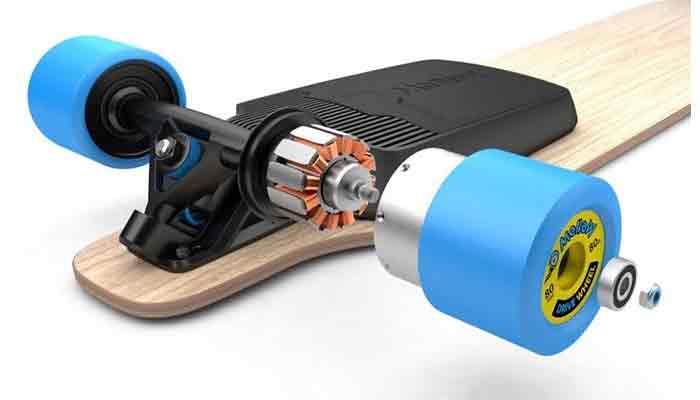 On the other hand, the manufacturers of wheels that are well-branded always keep a close eye on the quality. These wheels are also durable and of high quality for long-term use.
Now if you want to buy a good quality wheel then you can buy a good quality wheel for a little price. Again, if you are satisfied with a non-branded wheel, it is up to you.
The quality of the battery cell
How fast your skateboard will be and how many miles this skateboard will be able to travel at that speed depends entirely on what battery cell is used on your skateboard. And so the manufacturer should disclose what kind of cell is used in the battery of this skateboard.
Yes! You may be a little confused to hear the whole thing! But the matter is quite simple. Just like the difference you saw between generic and clone wheels, you need to keep an eye on whether a good company cell has been used in your skateboard battery.
Which cell between a good company cell and a normal company cell will give long-lasting and good performance? You better say that!
At the same time, if the electric skateboard manufacturer is branded, then they must tell among other information which cell's battery they are using.
Also if the cell of the battery is not very good in terms of quality, but its weight will fall on the motor and other parts of your electric skateboard. Again you will not get good and smooth performance from there.
And so even if it costs a little extra price, a good quality cell used battery should be purchased. Initially, the price seems a bit high, but considering the longevity, it becomes much more affordable.
Connectivity
Since electric skateboards run electrically, it is important to know whether all types of connections to this machine are working properly, whether electricity is reaching everywhere in the right way. The biggest problem here is, you are not an expert.
It is also very difficult to say that there is no problem with this connection in all types of skateboards or it will not happen in the future.
So now the question is, how do you understand this? The answer is quite simple. The first thing you need to look for is a company that has brand values in the market i.e. the best skateboard brands. The reason for looking for a good company like this is because they do not usually produce bad products.
And if there is any problem with the product, then you can get rid of all the problems due to the good quality after-sales service and customer care.
The second way is that whenever you buy this type of electric product, whether it is an electric hoverboard or an electric scooter, you need to keep an eye on the customer reviews.
Amazon's customer reviews are an excellent system. Not only sound education but his alertness and dedication too are most required. You can buy the product that most of the consumers have appreciated.
Weight and portability of best electric skateboards
If this is the case then you do not have to carry your own skateboard. That means no matter where you go, ride the board and come back through the board again. Then maybe you don't have to think much about weight and portability.
But if it so happens that you almost always have to carry your own electric skateboard through the best skateboard backpacks then the weight of that board is a big important issue.
Picnics, hanging out with friends, and chatting may require you to carry a skateboard for a long time. And so you have to buy a portable electric skateboard whose weight you can carry very comfortably.
And if you have a nice skateboard rack to keep your skateboard at home, it can enhance the beauty of your room a lot. However, the weight of your board depends on your carrying capacity.
Whatever it is, you can also buy good quality skateboard sunglasses if you want to have a nice board and sun on top to enjoy that sunny daytime more. Your riding experience will be much more comfortable and nice.
Air Travel-Friendly
If you have a hobby of traveling to all the nice places on holiday, and at the same time you want to go to different places and do skateboarding, then you need to buy an electric skateboard that is not air-travel friendly.
Different airplane companies have some rules and regulations. And before you buy, make sure your skateboard is made to comply with those rules.
If you buy a skateboard of your choice and see while traveling that you can't get on the plane with that electric skateboard, then the whole thing will become quite sad for you.
But how do you know if your skateboard is air-travel friendly? It's easy to see where you are buying the board from. And take a look at the various information on the manufacturing company.
Also, in case of travel, you have to get on the plane only after removing the battery from the skateboard. In that case, make sure that the battery is disconnected from your skateboard.
Another thing, before traveling, if necessary, get the relevant detailed information from the airport security. If you think it is very urgent, you can also find out from the airline authorities over the phone.
Is your electric skateboard waterproof or not?
Since you are going to buy an electric thing, and you are going to buy a product that you will use on the street regularly. So it is very important to know whether your skateboard is waterproof or not.
Otherwise, one day you will go out with your favorite skateboard in the rain, or you will run your skateboard through the water in the street and your favorite skateboard will be ruined.
But yes! With a little water, your skateboard may not be damaged immediately, but there may be problems with the connection. And from there you need to be careful.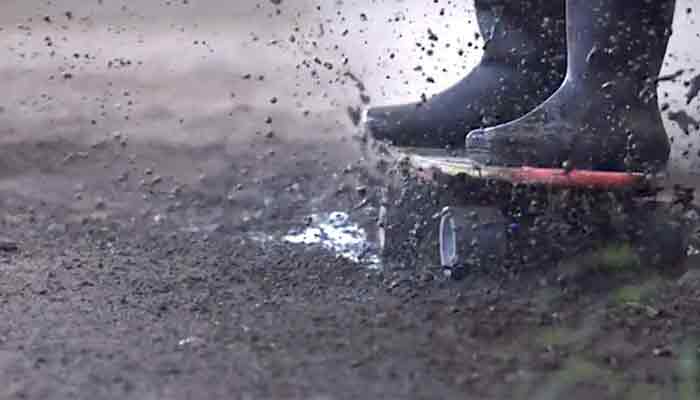 Before purchasing an electric skateboard, ask if it is waterproof. Also, many companies have skateboards that are water-resistant, take a look at these and don't get me wrong.
Water-resistant, light water splash will not be anything on the board. But with that board, you can't get out in the rain. The board will be damaged if it gets rainwater or too much water. You can only use waterproof skateboards in the rain.
A brand of good quality
When it comes to technology, you'll always find something better. It is always said that there is no product that is perfect at all. Even if one product seems perfect to you, the same product may or may not be good to another.
And when buying Best Electric Skateboards, it is wise to verify the name of the manufacturer of the product. Also since you are buying the product online, you can easily see the reviews of other consumers online too. It is best to buy a product that looks good.
One thing to keep in mind here, however, is that no specific bad review of the product will make you think that the product is bad. Instead, look at whether the product has been preferred by most consumers.
We have also said many times before that the brand value of a company is very important. And in order to maintain that brand value, the company regularly keeps a close eye on maintaining the quality of its products. At the same time, they try to improve their own quality based on consumer feedback.
And so when you buy a product from a good company, you can feel quite comfortable. If there is a problem, you can solve it through customer care or after-sales service.
Component Quality
What material your electric skateboard is made of and how it is made is a very important issue. It is very important to check whether the deck, wheel, and motor of your skateboard are of good quality.
It is because of the quality of these parts that there is a difference in quality from one product to another. And so it is wise not to buy any cheap electric products but to buy good quality electric products.
Apparently, the price seems high but when the product is long-lasting it also becomes much more affordable in terms of price.
And to keep an eye on all this, you have to choose a good quality company. You just have to be more discriminating with the help you render toward other people.
And considering these aspects, good company, as well as customer reviews, also becomes very important.
Warranty, Customer care & after-sales service
We are not buying daily necessities like flour, sugar, even if it gets a little bad, we can somehow use them. We are buying an electrical product with the price; we are buying an electric skateboard. And in the case of such products, they can go a little sideways at any time.
It may be that all the products of this company are good, but for some reason, this one product has a manufacturing problem. What will you do then?
In all of these cases, the company's after-sales service, warranty, and customer care play a very important role. In fact, most of the good companies that are found to create brand value think that you are not just buying a product but also building a long-term relationship with them.
If you are satisfied with their service today, then at your suggestion friends and even neighbors will buy the products of that company. When buying an electric skateboard, you must look at all these qualities of the company.
Even if you want to buy a beginner's skateboard, or the best electric skateboard for beginners buy it after considering the warranty, customer care. So that you can get maximum support from that company.
Brakes & Bidirectional Drive
Not to mention the feature at the end of it all and that is the brakes of the electric skateboard and the ability to take turns. If these are not good you can have an accident at any time.
However, it is better to buy the best protective gear such as longboard helmet, knee pads, sliding gloves to take extra care.

And your new electric skateboard must have these brakes and bidirectional drive. Note that we do not buy electric boards to show the best tricks and stunts at all. Instead, we buy with the aim of making our daily commute much more comfortable. And so these features are very necessary for our comfort.
Finally, it can be said that the best electric skateboards are a product of modern technology. In the past, we usually bought the best carving longboard or the best drop-through longboard. Or if I wanted something a little more comfortable, the BMX bike was a good option. But now the best electric skateboards have become an excellent vehicles due to the motor given in this skateboard.