If you ask me, is there anything that would take me floating in the air together, my probable answer would be 'longboarding'. This special sporting world is quite amazing and this Quest Super Cruiser review will let you dive more into it.
A longboard may not give you Tom Cruise's fillings, but it will give you some great moments for jumping and bouncing on the road. And it's really amazing when you wear your best skate shoes and best skate sunglass and commute with your friends on a hot sunny day.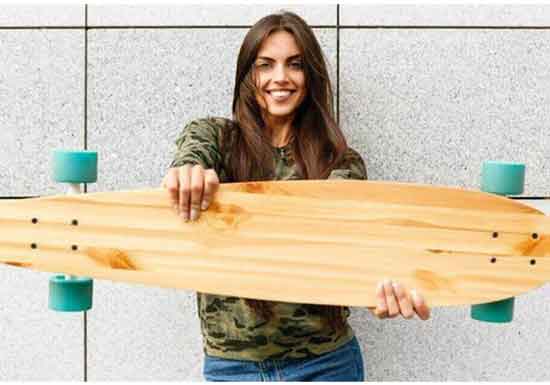 There are so many types of longboarding in the market today with so many elegant features, compared to that, our Quest Super Cruiser review can easily hold its position among them.
Quest Super Cruiser Review
You will soon find the pros and cons of the size of the Super Cruiser. But whether you take it positively or negatively depends on your point of view.
As new, the 44-inch length will give you a stable platform so that you get the space of your choice for better control. Due to the large size, small differences can be noticed according to the size of the feet.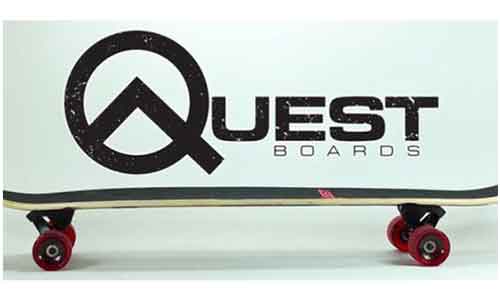 The deck (the upper surface of the longboard) is built in a very solid mode, and the Tail and Nose (the front of the board is called the Nose, and the back of the Tail) are in a pretty good place to kick.
The bearing may be a bit slow, but it will add an extra advantage for newcomers. But we would personally suggest, especially for beginners, to keep the axle screws tight, so that they do not run out of control. And also you can take a look at our article about how tight your longboards trucks should be.
With that, this super cruiser will be able to attract many new buyers as the price is affordable.
Also, if you have allergies to skateboards for any reason, you don't want to spend $ 100. And with the money left here, you can buy some new components for your Super Cruiser.
Features to Highlight
In the current market, this longboard has already been able to create a unique place for itself. And behind this success is the longboard with all the nice features and attractive design.
You can also be sure of the quality, as the overall quality is ensured through observation during the longboard preparation process.
Let's take a look at some of the nice features of this longboard
Material Mode: Prodigious!
Although the durability of all the longboards available in the market can be questioned, Quest longboards cannot be questioned. Many of the longboards available in the market have several problems.
There are several variants of Quest longboards, through which customers can choose as they like. They have four types of variants. There are many types of longboards in the market that claim to be the best for you, but when you take the Quest longboard in hand, you can tell the difference. Their metal structure will give quite a different and quite a premium feel.
Shape, Size, Structure: Super Cruiser!
The surface of the Quest Super Cruiser Longboard Skateboard is very attractive and looks a lot like a pintail.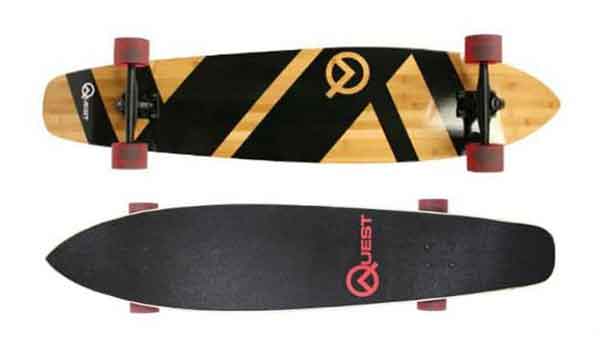 For those who have never used Cruiser before, the pintail shape will be very convenient. And with its 44 " size, the surface is a great sign of control.
The Quest Super Cruiser Longboard Skateboard won't go bad if you want to give it a great ride. And when it comes to the shape, the best atom longboards are also quite amazing.
Trucks
Good parts are used for good performance. But the kind of ads we usually see in real life but not at all. When we come to the street with the board, WE can see the other side of the coin.
Usually, when the cruiser is brought from the market, it is seen that its parts are in a very dilapidated condition. Some scholars like us keep these tight so that good speed can be obtained. But the real result comes to nothing.
Performance tends to be worse. Besides, the build-in is very calculated as it is curved. The result is extremely good feedback. But if you change the structure of these, you will get better results. So, in this case, the best way is to keep them as they are.
Wheels
The wheel is used to move the cruiser forward. And for good speed cotton. The wheel used in Quest Super Cruiser Longboard Skateboard is standard enough. And quest super cruiser remix is also quite great for the wheel.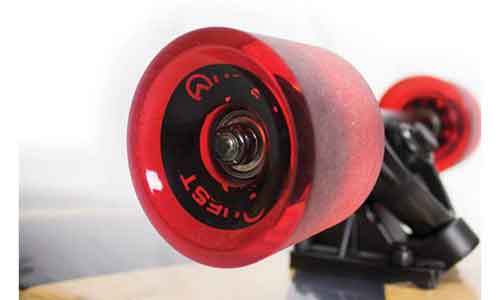 And if you want to buy some extra wheel, then shark wheels can give you amazing performance.
Best For
If you are looking for a nice longboard for cruising, which you can safely rely on, then this sturdy quest super cruiser bamboo longboard is a perfect choice for you. This longboard will be able to provide an excellent comfortable riding experience at any time in case of cruising.
Also, you can balance it very comfortably, as this board is very stable. Yes! You can ride freestyle if you want, but this board is not specifically made for this style.Quest Super Cruiser review will tell you the perfect use for this board.
If you are interested in freestyle riding then Best Dancing Longboard can be some nice choice for you. But if you start freestyle with today's quest longboard, this longboard will not last very long.
Who's This Cruiser for?
Cruising is a board that is not a top mount, where its deck is mounted on its tracks in a very classic way. And since the name of this longboard has Super Cruiser written on it, you can understand that this board is a very high-level longboard for cruising.
This longboard will be able to give you a very nice performance for wandering around the city streets or traveling from one point to another.
But if you want to carve with this board then it is not ideal for you. For this, you can try the best carving longboard. Quest is one of the best longboard brands like atom longboards.
If you are a beginner and looking for a beginner longboard then you can also choose this longboard for your general exercise. And since longboarding has some excellent health benefits, this longboard will be able to provide you with excellent service.
You may not find another longboard in the current market for this kind of price for short road trips. This longboard, nice and awesome, will ensure you the most comfortable and safe riding.
But if you want maximum safety then it is better to buy the best protective gear. Because it allows you to be safe enough in case of any kind of accident.
Can You Trust Quest?
This Quest Super Cruiser is a very popular product of the Mars brand. This excellent brand also makes some other special kind of longboards including the best gloves, skateboard racks along other skateboard related products.
In a nutshell, this brand has been serving everyone in the current market for a long time. And several products of this brand have already gained a lot of popularity.
Again, if you also look at consumer reviews and feedback, you can safely rely on this board. Because in terms of quality, this longboard will be able to provide you uncompromising service. This longboard will always find its place on the best longboard brands list.
Should You Go For It?
There is no doubt that Quest Super Cruiser can give you some of the best moments for your ride. But the annoying thing about it is that even if you get mature if you have to go skating after the bell, it will be a cause of annoyance for you.
They will have the most fun with this Quest Super Cruiser board for those who are getting involved with the brand-new riding. Besides, there is no unreasonable reason to be overwhelmed by the high price of Amazon.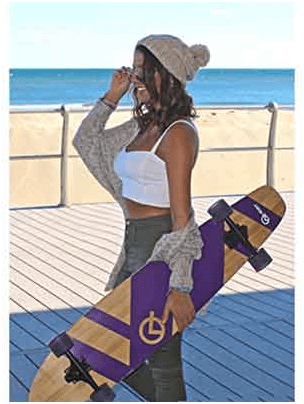 Because it gives you value for money products. This quest 36" serenity cruiser skateboard is very useful for newcomers and to give them a taste of skating.
However, there is no objection to the fact that there are better cheap longboards available in the market. Yet, it is often seen that most of them are skyrocketing prices.
Though, the better the possession of such products, the better the feedback and it enhances the Quest Super Cruiser review. In many cases depending on your skill how you give feedback to others.
Also, if you want to give your riding experience a new look, you may have to look at other components of the market separately. Which will further accelerate your riding experience.
Things we did not like about this skateboard
I've heard a lot of people say that to raise questions about the layers of the deck bursting. If this is the case then maybe this is a bad thing at all.
WE came across such an incident after buying a new generic board. Because WE soaked it in water. This type of problem should not be common while driving. Because the type of material used in it is not supposed to be this kind of problem.
If such a problem occurs then the shifting project will be most responsible for it. This type of effect seems to be more likely to occur during the transfer of goods.
But if there was a problem in manufacturing, it would be in all types of riders, but that is not happening.
Also, some more customers have complained that the wheel has some cracks and makes some annoying noises. There are also major issues such as slowing bearings.
However, it is being speculated that such problems may be due to various defects while manufacturing in the factory. It is sometimes seen that this problem is also due to the problem of adjustment of nuts and bolts.
Should You Buy Quest Super Cruiser?
The dream of a good quality longboard rider is to use his own board and run smoothly as much as possible to save himself from injury. And so as not to get into any serious trouble on the narrow and narrow roads.
Quest super cruiser yellow wood longboard is going to be a good choice if you want to have an overall view considering all the aspects.
This type of longboard, whether professional or newbie, can give people some great rides because this ride has several features that are made especially for beginners.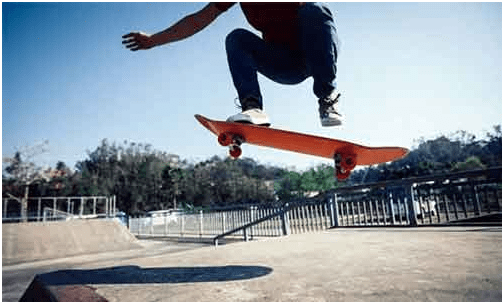 And if we go to compare the features with its price, we don't have to ask any question about the price. Because it is a value for money product.
This quest super cruiser artisan bamboo longboard is a perfect product for the tour because it will allow you to enjoy some great ride moments.
This is going to be awesome if you want to spend your hard-earned money on a good quality product.
FAQ
Are Quest boards good?
The price of these boards is very affordable, unique in design, and long-lasting. Although Quest's products are not widely available in the market, there is no doubt about the quality of what is available.
All are high class and high quality. It's also not surprising that Quest longboards have a smooth and stable ride at the top of the choice list.
Can you do skateboard tricks on a cruiser?
In short, the answer would be 'yes'. Although it is not a matter of doing four things. Most cruisers are very heavy. And because of this heavy, it is often difficult to lift from the ground.
Again, in the case of some cruisers, their birds are like pop cycle decks that are very difficult to customize.
Is the board good enough for city transportation?
Quest Super Cruiser Longboard Skateboard is a really good riding product if you opt for a smooth area.
One thing to keep in mind, in this case, is that if you are thinking of transport in the city, it would be better for you to buy a parallel space.
Otherwise, your board may face some complex problems. Especially for extreme level rides.
Is the board friendly to ride for beginners?

Yes, of course, this is a board that is quite suitable for beginners. And this Quest Super Cruiser review can tell you that, these best longboards are quite a user friendly for newcomers. One thing to keep in mind, however, is that many may wonder why the deck used in it is so large, although this size has been enlarged especially to make the first ride of the newcomers more fun.