How to Choose Best Dancing Longboards :
Best dancing longboards have always been a well-loved and exciting activities provider among all age skaters. In 2021, dancing boards have become a viral skating activity in the US region. As a result, the demand for the best longboard for dancing grows quite high.
Though you can dance activities by using any longboard but the longboard which is specially focused on dancing offers more comfort. A dancing or the best freestyle longboard usually comes with a highly technical skating style.
This kind of board provides an acrobatic riding style, including flipping tricks and constant spinning. It is more stylish than other kinds of traditional street skateboards. Let us see why dancing longboard is special from other ordinary boards.
For any Longboard Do not forget to use slide gloves for your safety.
What is dancing long board ?
Dancing on board means a variety of spinning and walking moves. A skating board is considered as a dancing longboard when they are at least 10 inches wide and 38+ inches long. The reason is that a larger deck is more comfortable for a rider who wants to dance with the board.
Many people think that a longboard is the same as a skateboard, but it is not true. They are quite similar to each other, that is all. Actually, a longboard is sports equipment. It is longer than skateboards, and they are mainly used for traveling, downhill racing, freestyle stunts, and cruising. For performing critical stunts, you must need a longboard.
If you are looking for the best dancing longboard, you have to go to the right place. It this article, we are going to present the top dancing longboards available in the market. We will also include the incredible features for each selected board. This post will help you to balance the uniqueness, appearance, and price of each product.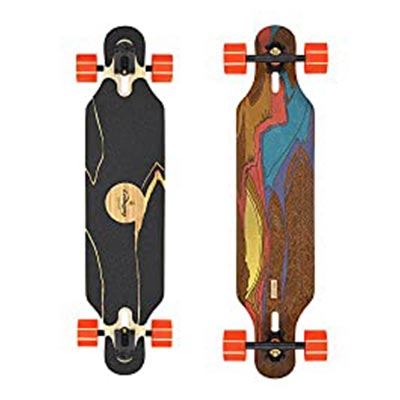 We are presenting our first selection of the best dancing longboards list, the Loaded Boards Icarus Bamboo longboard. If you are looking for a great dancing longboard that can be used on a snowy day, then it may be the best option for you. The style of this board is almost the same shape of snowboard-style carving that is great for those riders who want excellent flexibility.
Specification
1.The wheelbase is 28.25 inches
2.Flex ranges are 170-250+lbs and 75-200+ lbs
3.Paris 180mm, 50° matte black reverse-kingpin trucks
4.Orangatang 75mm, 83a Durians
5.Loaded Jehu V2 bearings
6. Product Dimensions are 38.4 X 8.6 inches
The Loaded Boards Icarus Bamboo longboard comes with Utilitarian design. It's drop-through truck mounting for more comfortable pushing and better stability genericforgreece.com. You can push it easily, and you do not need to put a high amount of force at all.
Variable edge concave and cambered profile create a precise and lively riding experience. The nose of the board is small for providing you an easier riding. This longboard combine fiberglass and laminate bamboo for a durable, lively, and lightweight ride.
Pros
1.The wheels are smooth and provide an excellent grip
2.Trucks are efficient while changing direction
3.Condensed designed for dancing
Cons
Wheels are heavier than other boards
2.KrownKrex 2 Bamboo Freestyle longboard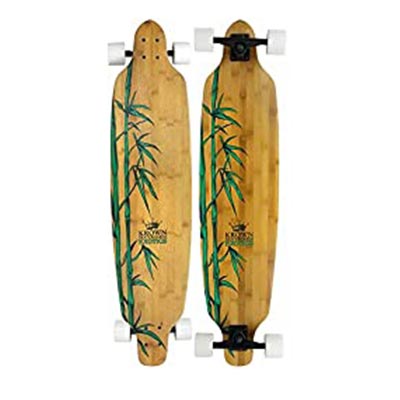 Our next selection of longboard brands list is Krown. The Krown debuted in the skating world in 1996. Gradually it has reached the peak of popularity. KrownKrex 2 Bamboo Freestyle longboard is such a type of board from Krown that will be for your dancing activities.
The graphic of the board is simply awesome, that it would attract all skaters. It is just like a simple wood board that has wheels on it.
Specification
1.Product Dimensions are 9.25 x 41 inches
2.Item weight is 7.7 pounds
3.White 71mm 78a Wheels
4.the wheelbase is 31.25 inches
5.Clear Grit over top graphic
6.7″ Black Trucks with speed bearings
The simplicity of the KrownKrex 2 Bamboo Freestyle longboard becomes its beauty. This board is excellent for those who want longboard dancing setup on any extreme outdoor places. The bamboo made the bottom part of the board act as its foundation. While the top part is maple made, which is smooth and has an excellent grip on your feet.
The board is excellent for a beginner. It will help you to learn how to balance and also help in your practicing.
Pros
1.Excellent design with especially the bamboo image
2.The structure great for dancing activity
3.The bearing could handle high speed
4.The board is enough durable
Cons
1.Turning might be hard
2.It seems hard to move in a different direction
3.ENKEEO 40″ Drop-Through Longboard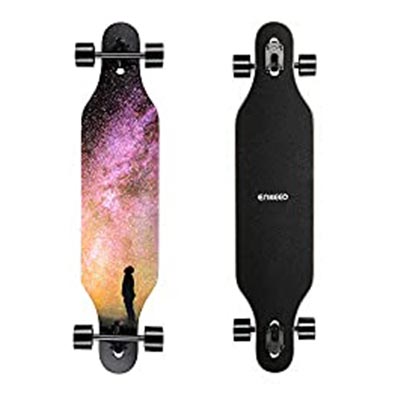 If you are an advanced longboard rider and want to do some advanced tricks on board, then ENKEEO 40″ Drop-Through Longboard may be the best one for you. The design of the board is really awesome; especially, the bottom side of the board is fantastic. Its portrait is super. The above surface of the longboard provides a good grip, and it is also suitable for safety.
Specification
1.Product dimension are 9" wide x 40" long
2.Weight is 8 pounds
3.Bearing ABEC rating is ABEC-11
4.Wheel size is 70mm x 51mm
5.9-ply flex laminated maple deck
The ABEC-11 bearing of the longboard is able to handle all big impact tricks no matter whatever your dancing activity on the board is. It is designed with a quicker rolling of wheels, which able to run as quicker speed as you need.
Enkeeo drop-through longboard comes with a 9-ply flex laminated maple deck. The anti-slip brushes black surface of the board provides you extraordinary performance.
The maneuverability of the board is merely exceptional.
Pros
1.The design is satisfying for any stunt
2.The anti-slip mechanism ensures safety
3.Wheels provide excellent speed and great for long travel
4.The bearing can resist heavy shocks
Cons
1.9-ply may be a little bit heavy
2.Pricey than other board
4. Playshion 39 Inch Drop-through Freestyle Longboard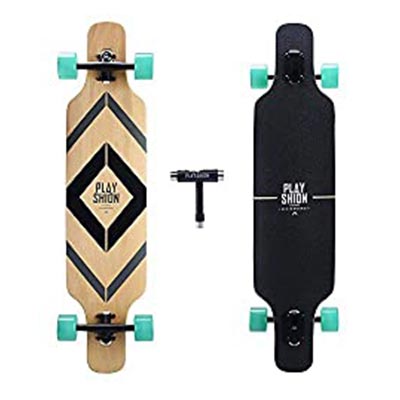 When we talk about the best dancing longboards, then we must say about Playshion 39 Inch Drop-through Freestyle Longboard. This board is very good for beginners because it is quite light in weight that it does not be a burden too much to the user.
Specification
1.Product dimension is 39 x 9.1 x 4 inches
2.Weight is 7 pounds
3.Flexible 8- Ply Maple Deck
4.Able to hold Up to 250 LBS weight
5.Big soft 70x50mm PU wheels
6.Solid 7-inch Aluminum trucks
Playshion Drop-through Freestyle Longboard offers ample space for the user to do their basic activities. That is why; this board is great for a starter to learn how to make balance on the longboard.
The design of the board is very suited for those who do not even have any experience of longboarding until now. You can start your learning with this board. The 180mm trucks of the board are made from aluminum, which is strong enough to endure heavier weights.
Pros
1.Could easily be used by the starter
2.Bearings can resist shocks
3.Provide a satisfactory experience
4.The flatness of the board is enough strong
5.Beautiful design
Cons
1. Wheels are not consistent
5.Magneto Bamboo Longboard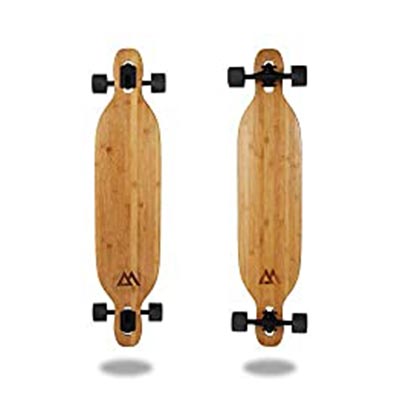 Our next selection for the best dancing longboards is Magneto Bamboo Longboard. This board will definitely increase your interest in longboarding. It is made from bamboo, which is quite lightweight material of board making. Not only that, bamboo is a famous material for the board for its durability.
Specification
1.Product dimension is 46 x 9 inches
2.Item weight is 9.8 pounds
3.High angle Paris style trucks
4.70mm wheels
5.Beautiful natural bamboo finish
6.Beautiful natural bamboo finish
The design of the board is solid, and other parts are well-aligned, which is excellent for dancing. Moreover, it adds efficiency when you are trying to have some ride on the bevel. Because of the installed materials, your riding will be smooth enough.
You can feel free to accept this board for cruising without much scrutiny. The appearance of the board is very pleasing. Your audiences will satisfied and increase their level of appreciation when they see you doing tricks on this board. Moreover, the beauty of the board will encourage your productivity in exercise.
Pros
1.Wood appearance gives a classy look
2.Materials seam durable and long-lasting
3.The lesser effort in pushing
4.The middle part is lightweight.
Cons
· Sometimes it may difficult to make turns
6. VOLADOR 46inch Maple Dancing Longboard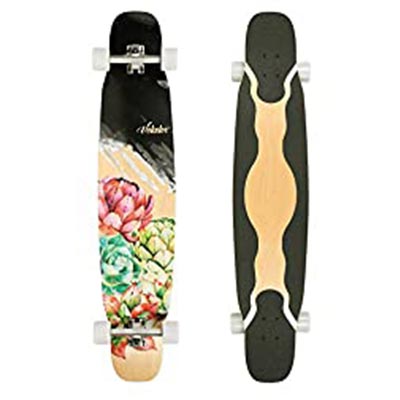 VOLADOR 46inch Maple Dancing Longboard is one of the best dancing longboards. It will surely give you ultimate satisfaction. It comes with 100% maple deck construction, and you will instantly notice how sturdy and solid this board is. It actually uses 8-ply cold-pressed hard rock maple wood for making the deck, which makes the solid and gives flexibility at the same time.
Specification
1.Product Dimensions are 46 x 10 x 4 inches
2.Item weight is 8 pounds
3.100 percent maple deck
4.Flexible 8-ply cold-pressed hard rock maple
5.spacious 37-Inch wheelbase
6.Durable 70x51mm 78A PU wheels
7.ABEC-9 presion bearings
The 46 inches length and a 37-inch wheelbase of the Volador dancing longboard will give you enough space on the board. All other specifications make the board more stable and solid dancing longboard.
The maneuverability of the board is simply great, which is essential for any dancing activity. Moreover, it will allow you to try various riding styles.
Pros
1.100% maple deck construction promise for durability and sturdiness
2.Able to absorb shocks and can prevent wheel bites
3.The entire longboard hardware made with high-quality materials
4.Excellent maneuverability for any dancing tricks and riding style.
Cons
1.The grip tape designs are not the best one
Simple guide for finding the best dancing longboards
Here are some simple factors which you may need to consider buying the best dancing longboards.
Finding the right building materials
The main element of the dancing longboard is the right building materials. The best board for dancing might have some of the following features:
1.Aluminum alloy trucks
2.Soft polyurethane 70mm 78A wheels
3.Highly dependable eight ply maple deck
4.Supports up to maximum 250lbs weight
4.Supports up to maximum 250lbs weight
Such features will maximize the styles and chops of the board. Another essential element is the types of style. Your selected board must have to allow dancing and freestyle activities.
Price of the longboard
Price is one of the essential factors to consider while buying a dancing longboard. There are plenty of expensive boards available in the market though some are overpriced also.
For this reason, it is quite essential to know the basic information about the longboard before you purchase it. Try to make market research regarding the current price of the board. Learn the basics about your required board so that the abusive sellers cannot make you fool.
All the time, current trends, new innovations, and technologies continue to come into the market, and they are varied by each manufacturer. Do not forget to enjoy the advantage of these inventions. But it should be noted that when looking for a cheaper board, something of lower quality is purchased.
Dancing longboard decks
The best dancing longboards length more than 45 inches and width more than 9 inches is suitable. Usually, an appropriate dancer deck is heavier, and they have more woodpile.
Dancing longboard design
The outlook of the board is also an essential factor to consider. In fact, this is the main part that the audience might see while you will do the stunts. When you plan to dance with a longboard, you should choose an item that is pleasant to look by your audience.
It will add your overall skating image. Select your decks that have a good drawing on it. You can grab your favorite character and color also. However, do not consider the performance of the board with its appearance.
Dancing longboard wheels
As the larger wheels of the dancing longboards spin longer on a single push, they should be heavier and larger for making flatland tricks easier. Wheels required a steady ride and should be super smooth for dancing activities. Such kind of steady and smooth ride, you will need wheels set at 65mm plus.
Related Article: Best shark wheels review
Dancing longboard breaks
Breaks are a very important factor as it is related to your safety. There are various types of brakes that each dancing longboard varies depending on each manufacturer. There is a sit break that would need you to form a position like sitting so that you can put some pressure on the board. But you must need an excellent balance to do this.
The wind is the main component of the air brake, and it needs to stop the movements. You can use this break with some body movements.
Final Notes
Every single tip of the buying guide will help you to grab the best dancing longboard. In your favor, we have chosen the top six dancing longboards in the above list. You just have to pick anyone from the above list lets enjoy the maximum thrill with your riding mates. Make your audience surprise with the eye-catching longboard and increase your skill by doing all possible activities. Because you deserve the best.
Related post :
Best cheap longboard under $100