Skateboarding has become such a popular sport as millions of people skate. Nowadays both adults and kids are skating. There will be a point in your child's life when they'd really want to learn how to skate and this will bring your child benefits. Skateboarding is not just fun but also an effective way to improve your child's physique. This article writes about the Top 10 best skateboards for kids in 2022, hope that will help you to find out high-quality skateboards for your kid.
If your child has not tried skateboarding before then fear not, there are tons of skateboards for kids and well-made protective gear for kids.
In 2022 Top skateboards for kids
Most of the time Parents face difficulties in Choosing the right skateboards for their kids. Some skateboards are expensive and most parents would not want to spend hundreds of dollars on a kid's toy but you should keep in mind cheap skateboards will not guarantee your child's safety.
You may also think that your child does not need a big skateboard so a small skateboard will do small skateboards have little decks which means your child will have a higher chance of falling so be sure to choose the right little kid skateboard for your child.
Below we've listed the top 10 best skateboards for kids, always remember to buy a good quality skateboard that will last long and most importantly guarantee your child's safety.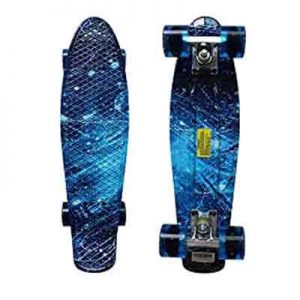 This cruiser is a great choice for kids; the boards are made with stylish graphics that will surely attract your child and good plastic which makes it more durable.
The board comes fully assembled you won't have to worry about reassembling it. The trucks are made of high-quality aluminum which makes riding very smooth. Also comes with super smooth PU wheels and high speeds bearings. This is the right skateboard for boys.
Pros:
**It arrives Fully Assembled and ready to ride
**Top-notch thick aluminum trucks
**Weight capacity: 198 LB
**PU Wheel for a smooth ride
** High-quality bearings can give you a speed blast
Cons:
**You can feel the board is kind of bendy, but that doesn't affect your ride though!
**It can get scratched easily.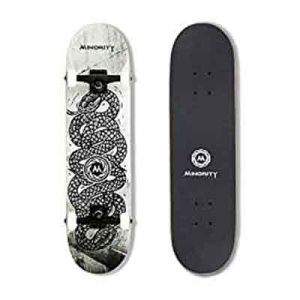 A very well-made skateboard; this board is made of 7 layers of maple wood making it very durable and long-lasting. The five-inch trucks are of high-quality aluminum equipped with a carbon steel kingpin guaranteed to give you a smooth riding experience.
The wheels 52mm 102A PU wheels are great for street skating. The boards are made with stylish graphics which will surely win your child's heart.
Pros:
**Robust construction with a top-quality maple deck
**7-ply maple wood for durability
**Can withstand 220 lbs.
**Mediate concave which is quite perfect for tricks
**ABEC-9 precision bearings for high-speed
Cons:
*It can wear out quite quickly
*It doesn't have any aesthetic look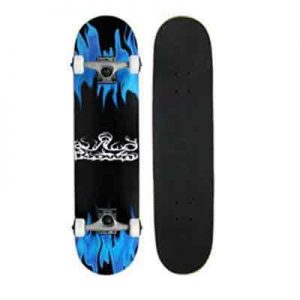 Another great kids' skateboard; this skateboard is very popular among beginners for its lightweight design. The deck is made of Canadian maple with a modern concave allowing for better foot placement and more comfort. Wheels are 52mm Urethane known as graphic wheels great for street skating.
Pros:
**Sturdy construction with Canadian Maple
**Aluminum Trucks with top-notch flex
**Black grip tape can give you maximum stability
**52mm Urethane Krown Graphic Wheels
**It arrives fully assembled and ready to ride
Cons:
*There are some complaint about the sturdiness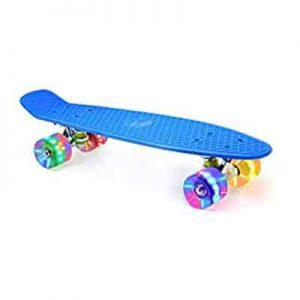 This popular design is commonly used among kids and teenagers. The decks are made of high-quality plastic for more durability and can be purchased in different colors making them more stylish.
To make the board even more stylish Merkapa has added LED lights to the wheels so every time you're skating the wheels is always lighting up.
The boards are fully assembled and Merkapa offers a 30-day money-back guarantee.
Pros:
Amazing looking LED Light without a battery
Electricity comes from the rotary power
Classic mini cruiser deck for the best commuting experience
Top-notch heavy-duty aluminum Trucks for amazing performance
Shock absorption with great grip and stability
Cons:
*There few complaints about the LED light not working for a long time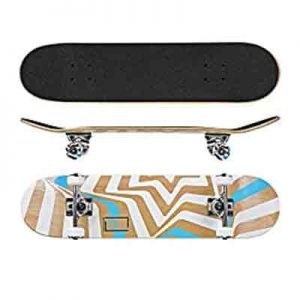 This Skateboard is mainly used in the street for its authentic design. The deck is made of a 9-layer laminated hardwood made to withstand weight and pressure.
A double kicktail has also been added for more comfort and legroom. The board is equipped with strong aluminum trucks for a smooth riding experience.
This skateboard is a good choice for kids who are still learning how to ride as it'll help them balance well and reduce falling.
Pros:
**Laminated 9-ply hardwood for robust construction
**Double kicktail for smooth performance
**Top-notch grip tape with stability
**Injection PU wheels can give a smooth riding experience
**Bevo Silver 5 Race Rated Bearing for ample speed
Cons:
Therese few complaints about wheels are not turning smoothly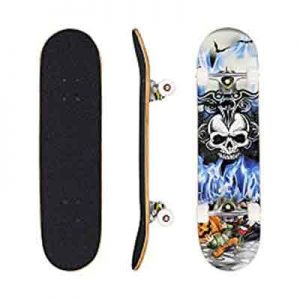 The skateboard is made of 9 layer maple wood making it high-density and more stable. The wheels are 55mm 85A anti-shock PU wheels great for the streets and skate parks.
Both the nose and tail have a modern concave with kicktails on both sides giving the skater more balance and a smooth riding experience.
Pros:
**9-ply maple wood with sturdy construction
**Stable performance
**Highly Durable
**Top-notch features
Cons:
There are some complaint about the delivery process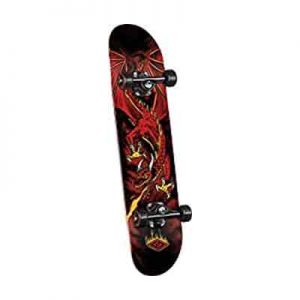 This skateboard is used by beginners and advanced skaters. It's affordable and is built with quality materials. Trucks are made of high-quality aluminum and wheels are hand-casted polyurethane wheels great for streets and skate parks.
The decks have a variety of cool-looking graphics screens printed on the bottom of the deck
Pros:
Suitable for both newbie to pro riders
It can withstand normal wear and tear quite nicely
Hand-cast polyurethane wheels can give you a smooth riding experience
Amazing and colorful graphics
Top-notch features
Cons: ed-italia.com
Trucks are not sturdy enough, though you can change it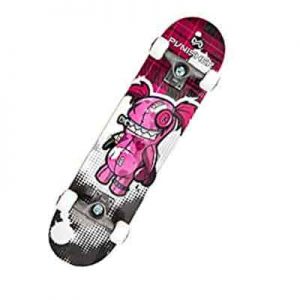 Made with 7 layer Canadian maple; the deck has a mild concave for better control while riding and turning. The wheels included are made of polyurethane and the bearings are PUNISHER ABEC-7 high-speed bearings. Decks come in colorful graphics, a great choice for a beginner.
Pros:
Manufactured from top-quality 7ply maple wood
Sturdy and robust construction can give ample satisfaction
ABEC-7 High Speed Wheel Bearings for smooth riding
Eye-watering graphical works on the deck
Duty Grip Tape to maintain balance
Cons:
Only suitable for beginners or kids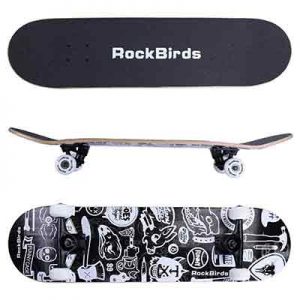 A great choice for kids; this 7 layer deck is made of Canadian maple; this makes it very durable for long-distance riding. A high-density non-slip waterproof grip tape is attached to the deck.
PU wheels are also added with high-quality aluminum trucks for more comfortable riding.
Pros:
Anti-slip grip tape for highest stability
Ideal for kids to practice all type of tricks and stunt
Perfect board for roaming around
7 Layer Canadian Maple wood constructed Skateboard
Can withstand normal wear and tear
Cons:
Few complain about deck can get scraped easily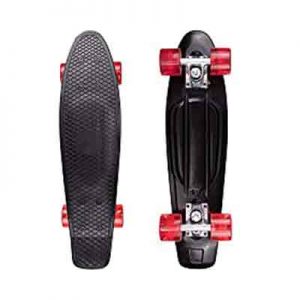 The last skateboard we have on our list is from Ohderii, The skateboards are made of high quality maple with 7 layers. The board is designed to be lower than some, this offers more stability and control to beginners who haven't gotten their riding down yet. The order also offers a long-term warranty of a year.
Pros:
It comes fully assembled and ready to ride out of the box
Designed for your convenient riding
Sturdy and robust plastic skate boards
Ideal for kids to learn skateboarding
ABEC 7 precision bearings for smooth riding experience
Cons:
Quite heavy for kids to handle
There you have it, we've listed the top ten best skateboards for kids, these skateboards are all made of good quality materials and are widely used by many skaters around the world.
We suggest you buy the proper skateboard for your child, make sure it's the right size for him/her. We understand that there are a lot of options to chose from but just remember a good quality skateboard will guarantee more safety for your child compared to a cheap skateboard.
Make sure your child is under parental guidance when they're out skating and always make sure they're wearing their safety gear.
Choosing The Best Skateboard for kids
It's great to see when kids do skateboarding. There are also several benefits to skateboarding from an early age. We'll talk about that later, but for now, we'll know what to look for when purchasing a skateboard for a child.
Affordable price
Hopefully, you'll get fairly good quality skateboards for kids within thirty dollars. But yes! Here are a few things you need to think about. Do you want maximum safety for your child? Does your child almost always break things?
If the answer to the above two questions is yes, then you need to purchase a skateboard with an excellent combination of price and quality. Another good thing to know is that even the cheapest skateboards are not very easy and comfortable to use.
However, this does not mean that you have to buy a skateboard at a much higher price. I said earlier that you need to buy a skateboard for your kids in a combination of price and quality.
Since there is a tendency among children to break anything, you need to purchase a skateboard that is quite strong and durable.
And there is no better skateboard for kids than this. And so when buying skateboards for your kids you need to consider price and quality.
Size
When you go to buy a skateboard for kids, you must have a good idea about the shape of the skateboard. Because skateboards made in the shape of adults are a very difficult subject for children to ride.
A good quality skateboard deck for kids should be between 6.25 inches wide and 7.75 inches wide. It is not a very difficult problem at all.
Also, since everyone in our expert team is a professional rider, we have come to this conclusion after a long research on skateboards purchased for our kids. And our review has been made in light of that experience.
We have seen that when a child is riding with a skateboard larger than his size, it becomes very difficult for him to control it. Because it is much heavier than it is, even if the board is light, it is difficult to control due to the size.
You will see in many places that there are different size charts according to height, age, and weight. Those are the thing that you have to abide by literally but that is not the case. The important thing is which shape suits your children well.
Skateboard shape
Which skateboard shape is right for your child? This is a very important consideration. Usually, it is better to buy two types of shapes for children.
The first is the standard street skateboard
The second is the mini-cruiser type shape
The first standard Popsicle board is usually the best for getting anywhere or riding on the road. This type of board is most suitable for your child if he is very naughty and is deeply involved in thrilling. Because with this kind of board he will be able to start a world of his tricks and stunts.
Also keep in mind that if your child buys a board for riding in a skate park, the deck should be slightly wider and the wheel a little softer. On the other hand, if you want to ride on the road, it is better to have the wheel a little harder.
One more thing to keep in mind here and is that you will only pay more attention to each of these minor issues when you see that your child is really serious about skateboarding. And he really wants to do skateboarding and become a professional rider in this world.
On the other hand, it is best to buy cruising-type skateboards for normal commuting. These types of boards tend to be slightly longer and wider than street boards. Also, the trucks of this type of board are a bit wider and the wheels are a bit softer as well. This type of cruising skateboard for kids can usually ensure a comfortable experience for any type of movement.
But if you are not sure what kind of riding your child will do the most. Will he ride a skate park or buy a skateboard to talk and hang out with friends? If you are not too sure about these, then it is better to buy a standard street skateboard.
With this type of street skateboard, your child will be able to start learning skateboard tricks and stunts in a very good way. In addition, if you want to make his riding a little more comfortable, you can install a slightly larger and softer wheel instead of the hard wheels.
Skateboard wheel
Just like I said a while ago that you can change the wheel of the skateboard at any time if you want. And if your child just wants to ride out of the hobby of skateboarding, then it would be wise to give him a cruising style wheel.
But yes! So much so that you can change the wheels of a skateboard at any time if you want, so with several types of wheels you can see which wheel is more suited to your child. You can give your child the wheel with which he is more comfortable to ride.
However, if your child is interested in learning to perform a variety of skateboard tricks such as Shove it trick, Kick flips, or any of these tricks or stunts, the 50-51 mm wheel will be a very convenient and perfect choice for him.
But you can always change the wheel to see which wheel suits your child since the price of this type of wheel is very low so you can do it. Just like I said a while ago if your child wants to buy a cruising skateboard for a light stroll in the neighborhood, buy a little bigger and softer wheel for him.
One thing to keep in mind in these cases, however, is that if the wheel gets too big, it can be wheel bite at any time. And so as a precaution you can buy the best protective gear for the child if you want. A good quality skateboard helmet or skateboard knee pads can ensure extra safety for your baby.
Is skateboard safe for children?
Skateboarding is a type of sports jetty that always has a thrill. And in any kind of exciting sport, there is a light risk. But no one gives up sporting just for this, right?
Now whether you buy a BMX bike made specifically for children and a skateboard, you have to be a little careful. Skateboarding is a bit risky for people of any age.
And so to reduce that risk, various protective gear such as helmets, sliding gloves, knee pads, etc. are made.
With this type of gear, you can greatly reduce your child's risk of skateboarding if you want. Also, a good quality pair of skate shoes is very necessary.
It is because usually there is not much grip in the shoes. And shoes specially made for skateboarding have a special grip that allows the foot to stick well to the deck.
In addition, these types of skate shoes have a variety of protective cushions, which will protect your child's feet even in the midst of skipping. All the initial pushes can absorb those cushions in a very nice way.
And so with that in mind, the risk of skateboarding is much lower because of all these gears and shoes. But whatever it is, let your child be naughty and enthusiastic towards different types of sports. Since it is also very good for health.
The health benefits of skateboarding for the child
Who doesn't want a child with good health? We all want our children to grow up and be healthy. And everyone needs to exercise for good health. The Health benefit of skateboarding has quite amazing effects!
The great thing about this type of sport is that you don't have to exercise differently after this sport. While riding, the child will do so much exercise; his body will become strong and involved in the formation of various muscles.
Also due to this skateboarding, the child will have enough physical work and like the time he will fall asleep due to being tired. And it will create a nice pattern of sleep, which will play a beneficial role in physical and mental development.
Again, in order to reduce physical obesity, it is necessary to involve the child in various sports from a very young age. This will increase the physical performance of the baby and will lose excess body fat. Children will be healthy, beautiful, and happy.
FAQ
When is a safe age for children to start skateboarding?
There is no set guideline for a child to start skateboarding at any age. However, many experts believe that skateboarding can be started as soon as a child is old enough to start walking and running with proper balance.
And four to five years can be a great time for that. At this age, you can start teaching skateboarding to the child on the carpet of the house, so it is less likely to fall and get too much pain. You need to find the best skateboard for 5-year-old.
Even at the 8 years, you can find lots of the best skateboards for 8 year old are available in the marketplace to start with. There are lots of mini skateboards from the best skateboard brands in the market to choose from.
How good are Habitat skateboards good for kids?
In this regard, in the health benefits segment of skateboarding for children, we have said that it is actually very good for the health of the child. Also when your child starts riding while standing on a skateboard while maintaining balance, he will naturally develop a lot more confidence in himself.
You don't have to worry too much about the child if you let the naughty child do skateboarding instead of doing too much mischief. Again, in the same way, it will also work as a physical exercise for the baby.
The child will grow up to be strong and his physical performance will be much better. Because skateboarding starts at an early age, the chances of a child becoming obese are much lower.
The child will grow up to be strong and his physical performance will be much better. Because skateboarding starts at an early age, the chances of a child becoming obese are much lower.
Overall, skateboarding is very beneficial in terms of health even if there is a slight risk of light and if you want to make your child beautiful and healthy, you can also start teaching skateboarding to your child.
Q. Why has skateboarding become so popular with kids?
Ans: Children naturally like to think of themselves as different from everyone else. Also when he can master a nice sport like skateboard he naturally becomes much more confident.
And seeing a child in this way, others also become much more enthusiastic about skateboarding. There is a cool thing about carrying a nice skateboard among friends. And this is a wonderful feeling that children like a lot.
Besides, for all the kids who are naturally naughty, this skateboarding is a great thrill and a challenge for themselves. Children love to deal with these kinds of challenges.
Overall, skateboarding is becoming more and more popular among children as there is a bit of thrill and a cool feeling in this type of sport.
Even for the adult, the best skateboard for beginners can give him a blast experience.
Related Article :
Best Morfboards for kids —for the safest skateboarding experience ever!